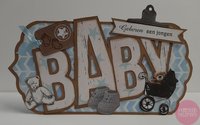 Deze week heb ik een baby kaart gemaakt.
Ik heb nog design papier liggen van CraftEmotions en ik dacht daar kan ik vast een mooie kaart van maken.
De uitdaging voor mij was om de kaart te maken en geen gebruik te maken van een stansmachine. En dat is gelukt.
Deze kaart is het geworden.
Ik heb 2 Dutch Doobadoo mallen gebruikt. De shape art another label en card art tekst baby. Deze getekend op kraft papier en uitgeknipt.
Uit design papier de 2e lijn gebruikt en dit op het kraft geplakt.
Zoals jij op de foto wel kunt zien, heb ik de randen bruin gemaakt met distress inkt vintage photo.
De sokjes die zijn zo leuk. Dit plaatje zit bij in het design papier.
Links op de kaart heb ik een beer geplakt.
Deze beer heb ik eerst gestempeld en daarna uitgeknipt.
De beer een beetje bol maken. Want een beetje bolle buik mag deze wel hebben. Toch?
Links boven op de kaart een label geplakt.
Deze zit ook in het design papier.
En misschien weet je het nog niet. Wij hebben sinds kort dubbelzijdig satijn lint.
Dit is zo makkelijk om een strikje of zoals op deze kaart het lintje aan de label te knopen. Je hoeft niet te kijken of er een doffe of glanzende kant aan zit.
Want bij dubbelzijdig satijn lint zijn beide kanten glanzend en mooi.
Hier zie je de kaart nog een keer helemaal.
Bedankt voor het bezoekje aan onze blog.
Een reactie achter laten zou ik heel leuk vinden.
Ik wens je een fijne dag en tot de volgende creatie.
Creatieve groetjes van Rikie de Mönnink.
Hieronder zie je de artikelen die gebruikt zijn bij deze kaart.
Klik op de foto om direct door te gaan naar het bewuste product.