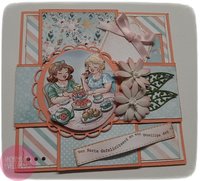 Deze week een Bubbly Girls kaart gemaakt.
De kaart is gemaakt voor de facebook groep kaartjes inspiratie challenge.
Hier is iedere maand een andere challenge en kun je leuk prijsje winnen.
Sinds kort is Anneke designer voor deze gezellige groep.
Voor meer informatie of het mee doen aan de challenge klik
HIER.


Het is lang geleden dat wij een 3D kaart gemaakt hebben. Wat een uitdaging is dat dan weer. Maar zeer zeker een leuke uitdaging.
Design papier is van Piatek Cute & Co.
Het plaatje op een rondje geplakt van CraftEmotions.
Naast het plaatje bloemen gemaakt met flower foam.
Er is gebroken wit gebruikt en deze is eerst helemaal gekleurd.
Daarna zijn de puntjes gekleurd. Op deze manier geeft het een leuk effect.
Meeldraadjes erdoor. Dat geeft toch altijd een leuk effect.
De tekst is van Mery en mooi dat deze in golf loopt.
Daarnaast is de stans van Mery gebruikt om de tekst op te stempelen.
Hier zien jullie de kaart helemaal.
Onderaan de kaart, aan de linkerkant zijn druppels gebruikt van Nuvo.
Nog 1 keer vermelden. Willen jullie graag meedoen of eens rondsnuffelen bij Kaartjes Inspiratie Challenge klik dan
HIER.
Bedankt voor het bezoekje aan onze blog.
Een reactie achter laten vinden wij altijd leuk.
Wij wensen je een fijne dag en tot de volgende creatie.
Creatieve groetjes van Anneke.
Hieronder ziet u de artikelen die wij gebruikt hebben.
Klik op de foto om direct door te gaan naar het bewuste artikel.