Hallo lieve bloggers,
hier de hints van de Samen Creatief die ik gegeven heb op 14 juni.
HINT 1:
Neem cardstock A - leg de 16 cm voor je neem in de breedte en ril op 3 en 13 cm.
Draai een kwartslag - 14,8 cm ligt nu voor je, en ril op 3 cm.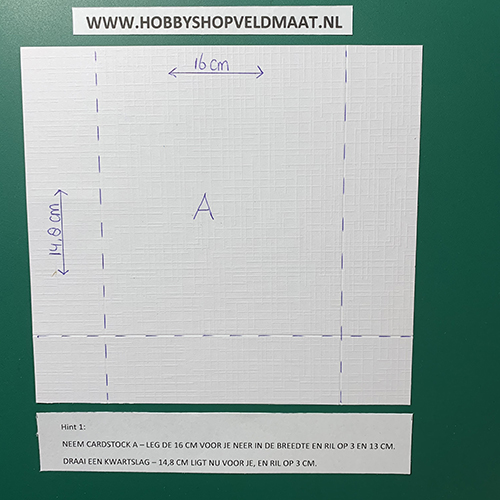 HINT 2:
Leg nu de 16 cm terug voor je en snij tot de rillijn in (3cm) links en rechts.
Op de foto met rood aangegeven.
Tip: knip deze hoekjes wat schuin af, dan past het straks wat netter in elkaar.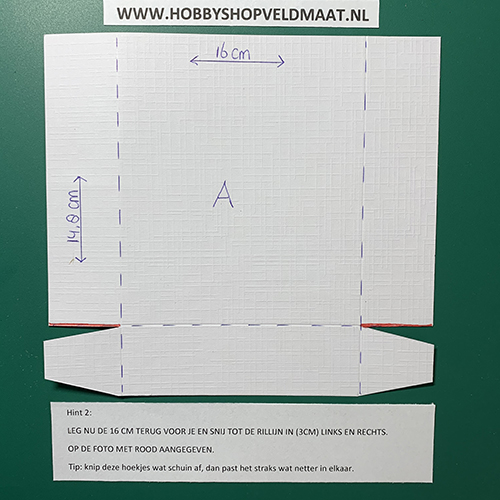 Hint 3:
Neem cardstock B - leg de 16 cm voor je neer en ril op 3 en 13 cm.
Draai een kwartslag en ril nu op 5 - 8,3 - en 20 cm.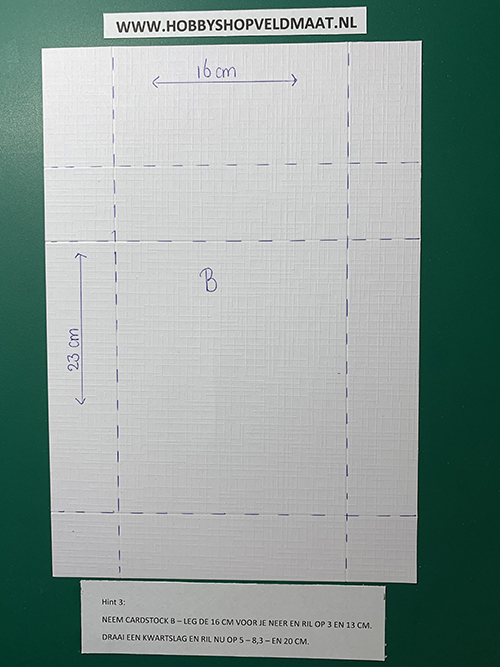 HINT 4:
Snij het hoekje van 3 en 8,3 cm eraf aan beide zijdes.
Op de foto met rood aangegeven.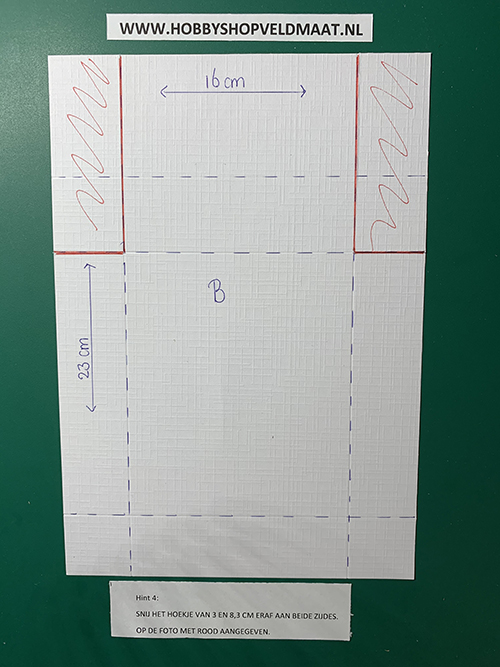 HINT 5:
Onderin bij de 3 cm tot de rillijn snijden.
Op de foto met rood aangegeven.
Ook deze wat schuin afknippen net zoals je bij A ook gedaan hebt.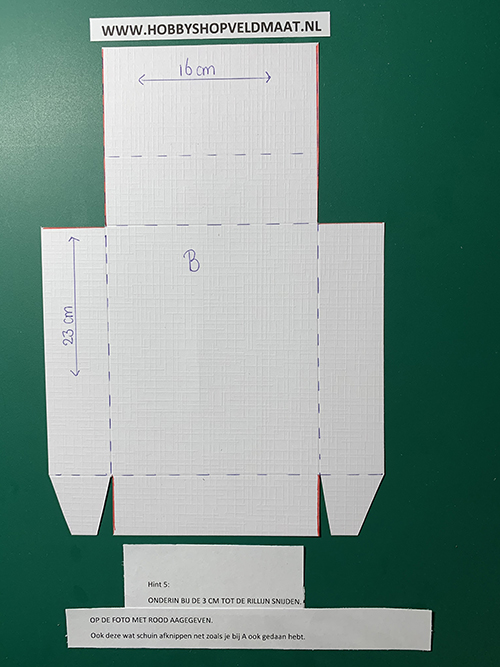 HINT 6:
Doe tape op de hoekjes die je ingesneden heb en ook op de lange stroken van cardstock B.
Plak de ingesneden hoekjes nu vast.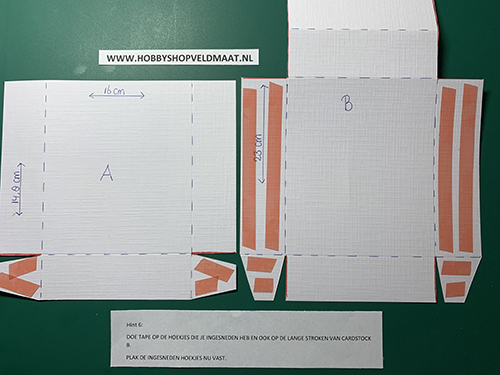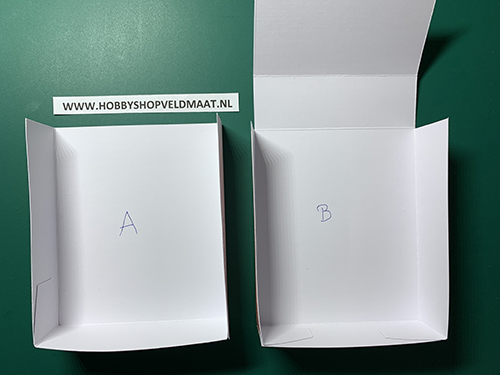 HINT 7:
Schuif cardstock A over B en deze mag je aan elkaar plakken, even op cardstock A op de onderzijde ook tape plakken,
Dekseltje sluit je met de magneetjes.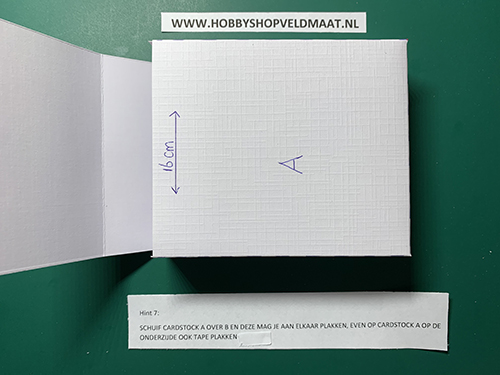 HINT 8:
Zet een pnt op de 1,5 cm breed e 1,5 cm hoog aan de zijkanten van het doosje. (beide zijdes dus)
Dit is het midden om een gaatje te ponsen of te prikken.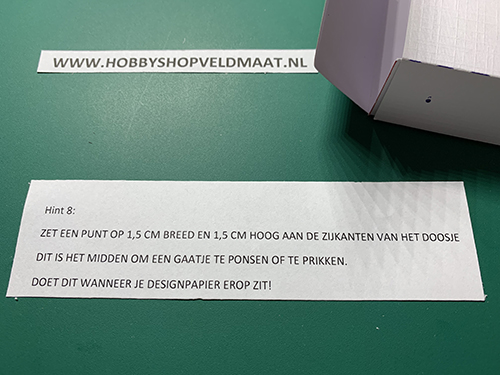 HINT 9:
Neem cardstock C - 29,5 cm breed en 11 cm hoog
Ril deze op de lange kant op 9,5 - 19 - en 28,5 cm.
Doe tape op het 1 cm strookje.
Ik knip het altijd een beetje schuin af (zie foto)
Neem cardstock D - ril deze op 9,5 en 19 cm.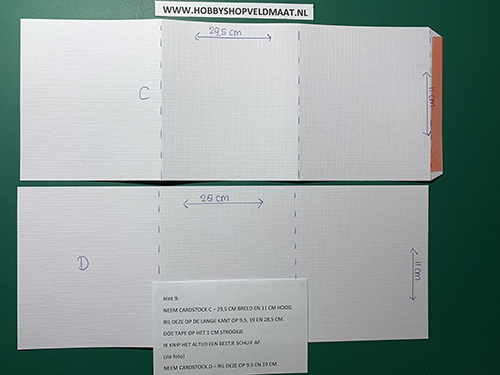 HINT 10:
Plak cardstock D nu aan C tegen de vouwlijn aan van 1 cm zodat je nu een hele lange strook hebt.
En vouw deze lange strook zizaggend op, dal en bergvouw.
Dit is nu je albumpje voor in je tasje/koffertje.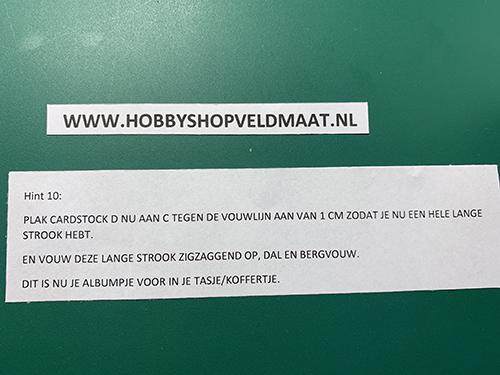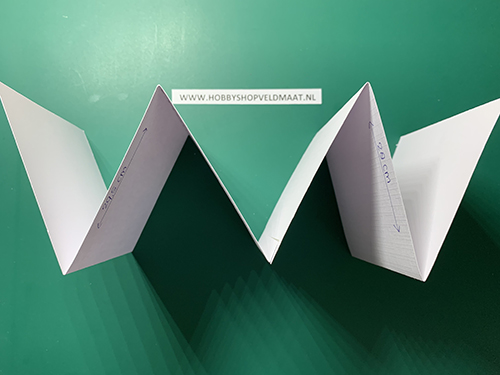 Vergeet niet bij het oppimpen om magneetjes onder je designpapier te plakken, om je dekseltje te kunnen laten sluiten?
Heb je geen magneetjes kun je ook altijjd klitteband of op een andere manier laten sluiten, dat is geheel aan jullie.
En eventueel een hoekjes pons voor je flapje wat leuker af te werken.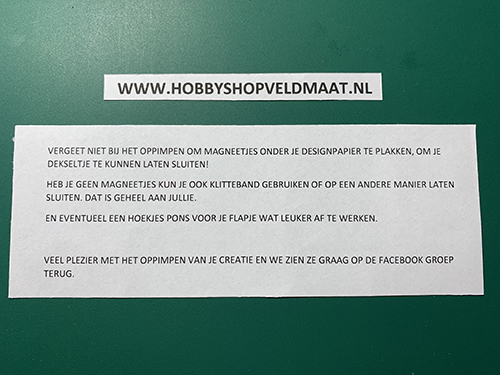 TIP: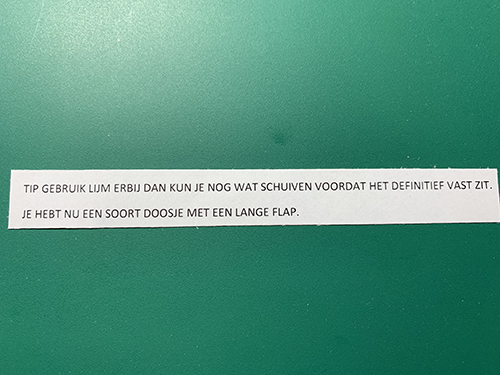 Hoop dat jullie eruit kunnen komen, en zien jullie creaties heel graag op de groep van Hobbyshop Veldmaat in de juist album terug.
Alleen dan doe je mee voor een prijs, vergeet ook niet om te bloghoppen.
Morgen zien jullie mijn uitwerking en van de rest van het DT team.
Groetjes,
Elly DT Hobbyshop Veldmaat