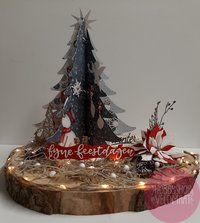 Vandaag laat ik jullie mijn kerst tafereel zien.
Ik heb de kerstboom van CraftEmotions uitgestanst. En je kunt er een boekje van maken. Maar met de klikringen eraan, kun je de boom ook rechtop zetten.
Dit heb ik op een ronde boom plaat gemaakt.
Wij nemen dit kerst tafereel ook mee naar het Creaweekend in Hardenberg 18 tot en met 20 Oktober 2019. Jullie kunnen ons vinden op plek 170.
En naar de KreaDoe in Utrecht. 30 Oktober tot en met 3 November 2019.
Daar staan wij op plek: Hal 7 G024-H023.
Ook kunnen jullie ons herkennen aan de roze ballonnen aan onze stand.
De wens fijne feestdagen is wel zo leuk om erop te zetten.
Deze is gestanst in wit karton. Op rood geplakt. Dit kun je heel handig met easyconnect tape doen.
Ik heb een stukje rietje geknipt. Aan de onderkant ingeknipt en pootjes gemaakt.
Dit op de plank geplakt en mijn teks aan de rietjes geplakt.
Van het knipvel snowy and friends heb ik de sneeuwpop geknipt en aan de boom geplakt.
De kerst engel is 2 keer uit glitter papier gestanst. En aan biede kanten van de boom geplakt.
De kerst bal is erg leuk. Je bouwt deze in lagen op. Stans de kerstbal. En het figuur wat erop komt. Plak dit op elkaar. Uiteraard is dit ook met easy connect gedaan.
Rondom de kerstboom heb ik foamklei geplakt.
In Hardenberg hebben wij deze foam klei mee. Koopt u voor 10 euro of meer dan krijgt u van ons een potje foam klei gratis.
Kerstboompje met een eland erbij geplakt in de klei.
De poinsettia is toch echt wel goed gelukt. Vinden jullie ook niet?
Deze uit rood en glitter papier gestanst. Ik heb 3 bloemen gemaakt.
Deze heb ik tegen elkaar aangemaakt op de plank.
In het midden een takje met sterren.
Hier zie je de bloem van boven af.
Ik blijf hem mooi vinden de poinsettia.
Ik hoop jullie ook.
Hier een totaal andere kerstboom. Deze is van Sizzix.
En toch leuk om erbij te zetten.
Hier zien jullie het hele tafereel nog een keer.
Willen jullie dit graag van dicht bij zien.
Kom dan naar de winkel of naar 1 van onze beurzen.
Bedankt voor het bezoekje aan onze blog.
Een reactie achter laten vinden wij altijd fijn.
Wij wensen je een fijne dag en tot onze volgende creatie.
Groetjes van Rikie de Mönnink
Hieronder zie je de artikelen die gebruikt zijn bij deze kaart.
Klik op de foto om direct door te gaan naar het bewuste artikel.