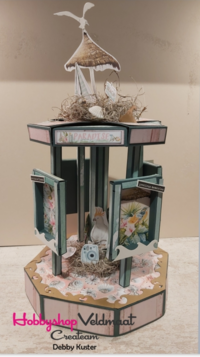 ooooooooooooo ik had me toch en leuke creatie gezien. En oooooo wat wilde ik die graag na maken......uiteindelijk is het niet helemaal zo geworden als het er oorspronkelijk op het plaatje uit zag maar ik heb er mijn best op gedaan.
Nee geen kaart, ook geen album en het is ook geen scrapbooking layout, deze keer een creatie uit papier geknutseld.
Ik kwam de creatie ergens op pinterest tegen en vond het papier dat in mijn juni crea pakket zat hier uitstekend bij passen
In de foto frames die ik op de steunpilaren geplakt heb, heb ik afbeeldingen gedaan die bij dit design papier pakket zitten. Maar je kan er natuurlijk ook erg leuk je vakantie foto's in verwerken of je maakt een carousel met een compleet ander thema.
De plaatjes op het knipvel heb ik gebruikt om het middelpunt van de carrousel mee te versieren en om boven op het dak een leuk zomers tafereeltje te creëren. Met Talansia om het een beetje een stoere look te geven
Het was leuk om weer eens zo'n creatie te maken, want thuis heb ik niet echt de plek om zulke grote projecten op te bergen,maar voor in de winkel is het wel leuk. En de volgende keer moet het een kant en klare uitwerking zijn of ik moet ergens een beschrijving kunnen vinden want het heeft me heel wat pas en meet uurtjes gekost. Dus zulke creaties ga je niet elke maand van mij zien.
groetjes Debby
Hieronder zien jullie alle materialen die gebruikt zijn bij deze kaart.
Alle artikelen zijn te koop in onze winkel en webwinkel.
Klik op het plaatje om naar het juiste artikel te gaan.