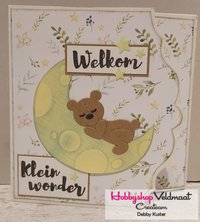 Daar ben ik weer, Deze keer met een mini baby album gemaakt van de dutch doobadoo mal #470.713.776 het is zo'n leuke veelzijdige mal. je ziet er zoveel verschillende creaties mee verschijnen. voor dit album heb ik beide delen 2x uitgeknipt en bij ieder deel heb ik bij een niet de ril lijnen getrokken maar die zelf op een andere plek gezet zodat het beter in elkaar past.
op de kaft heb ik gebruik gemaakt van het design papier en de randen beïnkt met distress inkt bundled sage een donker groene kleur. de tekst welkom klein wonder heb ik gestempeld met stempels van Marianne Design
Net zoals dit schattige beertje slapend op de maan ook een stans van Marianne design is. Ligt hij niet super lief te slapen op de maan.
Ik heb met het papier van een baby album voor een zoon van gemaakt. Het leuke papier heeft ook grotere afbeeldingen op het papier staan en die heb ik uitgeknipt met een dun klein wit randje er omheen. In dit geval een vogeltje en deze heb ik aan de rechter kant van mijn album geplakt
Voor de zekerheid heb ik er een foto bij gedaan hoe ik dit vogeltje heb uitgeknipt. vond het zo'n leuk vogeltje en het restje papier was te weinig om nog ergens voor te gebruiken dus zo heb je nog leuke extra materiaal om je album mee te versieren.
Bij het papier zit ook een extra vel met ronde plaatjes.
Ik heb deze uitgestanst met een ronde stans en daar 3 cardstock kaarten met kraft papier achter gestoken zodat je daar extra foto's achter kan plaatsen. zoals je goed op de foto hieronder kan zien
Dit zijn de leuke plaatjes
Ik heb het plaatje uitgestanst en daarna heb ik aan 2 kanten dubbelzijdig tape geplakt zodat je er dus nog foto kaartjes achter kan steken
Deze manier van extra ruimte in je album heb ik op een volgende pagina nogmaals toegepast.
Ook heb ik een tag met papierklem.van craft emotions gebruikt achter een plaatje dit is ook weet en plaatje uit en design papier vel
En dan zijn we alweer bij de laatste pagina van dit album aan gekomen. Ik heb nog een soort van pocket of envelop erin gemaakt zodat je daar tags in kunt steken
mijn 3 creaties voor deze maand zijn weer klaar. Geen idee of dit de eerste of 3de creatie is die jullie te zien krijgen. Die volgorde word door Anneke ingedeeld. . het was weer een leuke crea maand en ik kijk nu alweer uit naar de nieuwe envelop of pakket je weet maar nooit wat de maand mei ons gaat brengen
Liefs Debby
Hier zie je de artikelen die gebruikt zijn bij deze kaart.
Alle artikelen zijn te bestellen in onze (web) winkel.